Ben & Skylar Houston
7900 WCR 34,
Platteville, CO. 80651
(970)535-0929

Saddle & Sirloin Club Portrait Award, 2002. Portrait by Richard S. Halstead.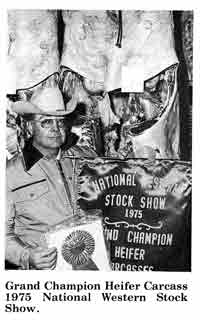 Aristocrat Angus Ranch - Where Tradition meets Technology.
Aristocrat Angus Ranch was founded in 1966 by Ben & Nita Houston. Ben had worked for a number of purebred operations, and in sale management, prior to venturing out on his own. Success came quickly for Aristocrat, with the crowning of "Black Watch Nobleman" as Grand Champion at the 1968 International Livestock Show in Chicago. "Nobleman's" legacy lives on today in the solid genetics of the Aristocrat herd.

The operation quickly grew to include a 2,500 head feedlot with an embryo transplant facility, croplands and an additional cattle and hay operation in LaSalle, CO.

In 1992, Aristocrat partnered in a venture that provided beef cattle genetics to the Ukraine. This led to involvement in other global markets and firmly established Aristocrat Angus Ranch as a leader in the cattle industry.


(Please note that our phone number at the ranch has changed since this video was made)
Ben's reputation as a leader in the cattle industry led to numerous appointments to committees and associations. He has a long history with the National Western Stock Show and Rodeo, being elected to the Executive Committee in 1976, President in 1985 and Chairman of the Board in 1999. He has been a member of the American Angus Association for over 50 years and was inducted into the Angus Heritage Foundation in 2001. He has also served as President of the Colorado Cattle Feeders, on the CSU Advisory Board, Developmental Board and CSURF, and was honored with the CSU Leadership In Agriculture Award. In 1987, US Secretary of Agriculture, Richard Lyng, appointed Ben to the Beef Promotion and Research Board.
Ben reserved much of the credit for his success to Nita, his wife of over 60 years. Their son, Skylar, now sees to the day-to-day management of the ranch. Much credit also goes to the hard-working ranch crew, headed up by Terry Clyncke and assisted by Sheralynn Haas and Victor Marruffo. Anne Westhoff and Mark Springston finish out the team, being responsible for record-keeping and accounting respectively.
Aristocrat Angus Ranch has been the host to many tours by a variety of groups, both domestic and international, in an effort to educate a broad spectrum of the public about beef production, and to promote the Angus breed and American beef genetics. This has resulted in numerous write-ups in industry and other publications. Below is an article that was the result of a visit by a Taiwanese media group (unfortunately, there is no translation!).